At NeuroSan Polyclinic, you can find answers for all your sleeping problems. Our experts in the field of sleep medicine (somnologists) who possess a longtime experience with all kinds of sleeping disorders are at your disposal.
If you need to perform an overnight monitoring session (polysomnography or polygraphy), you can perform it at our facility. Our overnight monitoring rooms are equipped with world-class state-of-the-art diagnostics devices and our qualified medical personnel monitors your overnight sleep by means of video surveillance. Your comfort is essential to us, we want you to feel at home, and that is why we took special care while decorating our rooms. You have at your disposal a suitable size bed, high quality mattresses and pillows, a private bathroom, an optional television set, sound isolation, and darkened climate-controlled rooms.
What is polysomnography?
Polysomnography is a type of noninvasive overnight monitoring in which the patient's sleep, breathing and movements are continually monitored. The examination is completely painless and soothing for the patient, and it enables the medical expert (somnologist) to receive a detailed insight into the patient's sleeping problems.
Just before going to sleep, a medical professional describes the procedure to the patient, after which he strategically places sensors (using a special cream) on the patient's body, depending on the desired field of measurement. Most common fields include brain activity, eye movement, muscle tone, breathing, heart operation, and oxygen saturation. During the night, a medical professional monitors the patient's breathing through a camera in the other room, and is at the patient's disposal throughout the night in case of any inquiries or requests.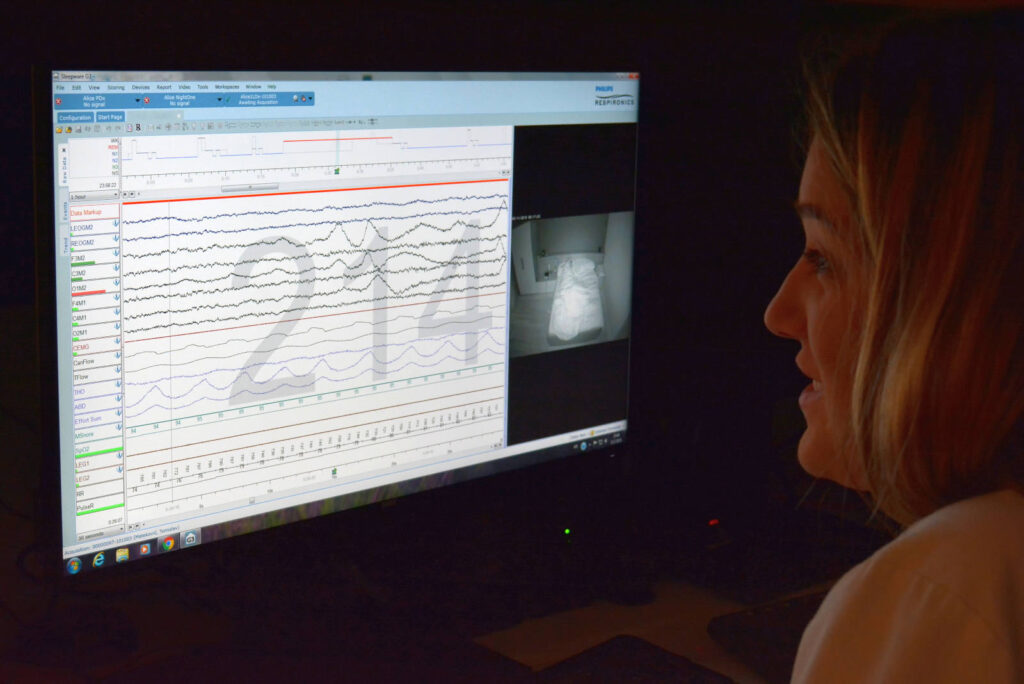 What is polygraphy?
A polygraph is a mobile device that is attached to the patient during sleep, and which monitors the patient's sleep, breathing, muscle tone and oxygen saturation. It is intended for diagnosing sleep apnea. Considering the device is mobile, it is not necessary for the patient to sleep at the Polyclinic, but can also be monitored during sleep in his own home.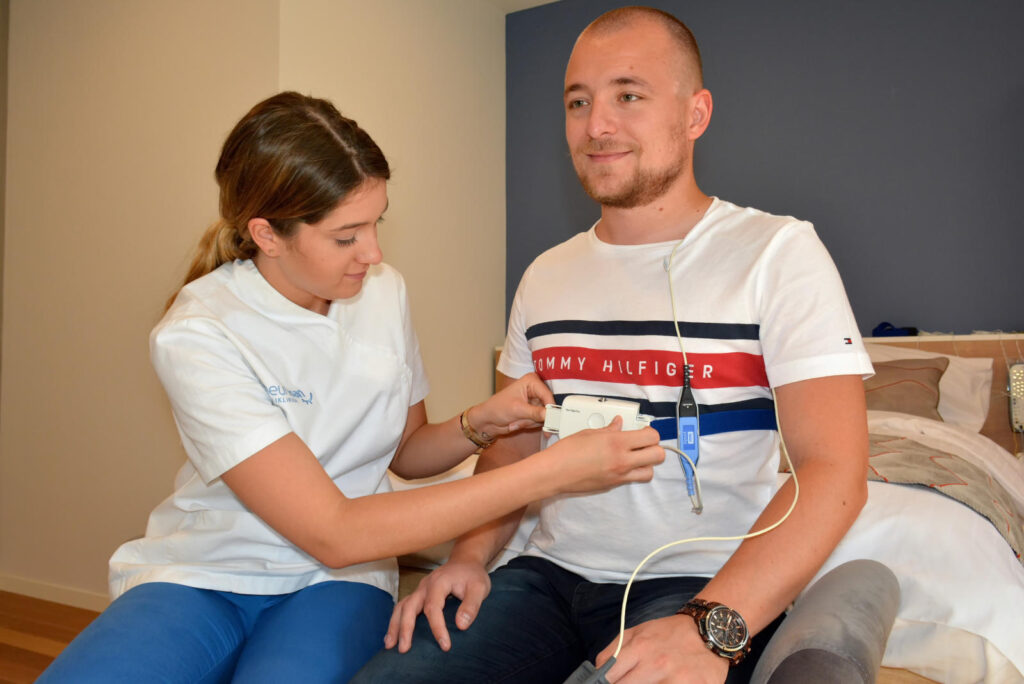 Titration on CPAP device
If the patient has been diagnosed with sleep apnea, NeuroSan Polyclinic can provide you with an opportunity to test the device (CPAP device) used to treat the given problem. Our staff of medical professionals will provide full support and will answer all of your questions. We also have a variety of masks and sizes for CPAP devices available for you.